Creator
Cast
Synopsis
The hosts talk about the latest cars and its specifications. They review the performance of the car and also find out if it is as good as the manufacturers claim. The current hosts are Chris Evans and Matt LeBlanc with The Stig.
Top Gear is a British motoring magazine, factual television series, conceived by Jeremy Clarkson and Andy Wilman, launched on 20 October 2002, and broadcast in the United Kingdom on BBC Two. The programme is a relaunched version of the original 1977 show of the same name, which looks at various motor vehicles, primarily cars. While the original format focused mainly on review of cars, the 2002 version expanded on this with motoring-based challenges, special races, timed laps of notable cars, and celebrity timed laps on a course specially-designed for the relaunched programme, with its format developing over time to focus on a more quirky, humorous and sometimes controversial style of presentation. The programme has received acclaim for its visual style and presentation, as well as criticism for its content.
Since 2002, the programme has been presented by several hosts. In its first series, the show's line-up was Clarkson, Richard Hammond and Jason Dawe, with Wilman as the show's executive producer, and introducing anonymous test driver "The Stig", an individual played by numerous racing drivers over the course of the show's history. Following the first series, Dawe was replaced by James May, with the line-up unchanged until the end of the twenty-second series, when the BBC chose to not renew Clarkson's contract on 25 March 2015, following an incident during filming. His dismissal from Top Gear prompted the departure of Hammond, May and Wilman from the programme, and led to them joining Clarkson in forming a new motoring series. For the twenty-third series, the programme was presented by Chris Evans and Matt LeBlanc, with them joined by four co-presenters who would make occasional appearances during its run – Rory Reid, Sabine Schmitz, Chris Harris and Eddie Jordan. After negative feedback on this series led to Evans resigning from the programme, Harris and Reid became the main hosts alongside LeBlanc, with Schmitz and Jordan making occassional appearances as co-presenters, from the 24th series onwards.
Since its relaunch, Top Gear is one of the BBC's most commercially successful programmes. It has become a significant show in British popular culture, with episodes also broadcast internationally in many countries in Europe, North America, South-East Asia and more, making it the most widely watched factual television programmes in the world. Its success has led to various forms of merchandising, including live tours, special DVD editions, and books, as well as spawning a variety of international versions in various countries, including the United States, Australia, South Korea, China and France.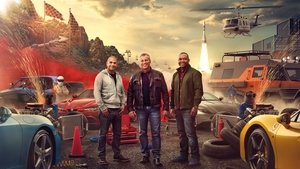 First air date
Oct. 20, 2002
Last air date
Mar. 11, 2018
Similar titles